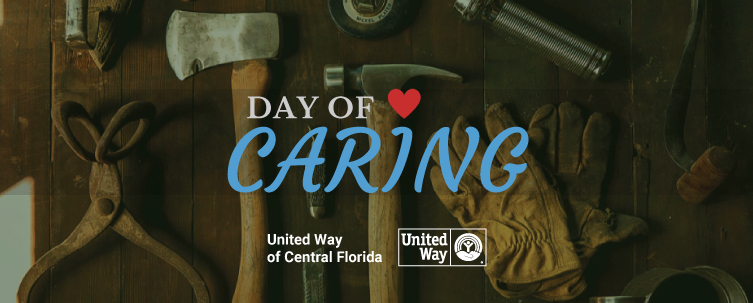 United Way of Central Florida Annual Day of Caring
March 13
Day of Caring is an annual event where volunteers come together to roll up their sleeves to support local nonprofits in need. To participate, please contact Scott Lonsberry at scott.lonsberry@uwcf.org.
RSVP by March 10 for our volunteer celebration coffee.
We're improving our community with volunteers!
200 ReadingPals

45 tax preparers

50 mobile food pantry volunteers

350 United Way campaign coordinators

50 Steering Team and Impact Cabinet volunteers

100 Community Investment Team volunteers

200 service day volunteers

350 Highlands County Day of Caring volunteers

300 Polk County Day of Caring volunteers
Participating Companies, Organizations and Clubs
Company Name
ArrMaz
Bank of Central Florida
BB&T
CertiPay PEO Solutions, Inc.
Citizens Bank & Trust
City of Lakeland
EMERGE
First Light Home Care
GEICO
Heacock Insurance Group
Heartland for Children, Inc.
Hexion Inc.
ITW- Professional Automotive Products
Kiwanis Club of Lakeland
Lakeland Collegiate High School
Lovely Paws LLC
Mid-State Industrial Maintenance
Pepperidge Farm, Inc
Polk Board of County Commissioners
Publix Super Markets, Inc.
SunTrust Banks
The Mosaic Company
The Results Company
United Way of Central Florida
Wells Fargo
Women United